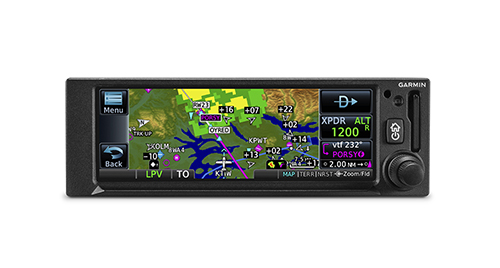 Garmin Launches a New Suite of IFR Navigators
posted by:

Steve

No Comments
As many of you may be aware, on Monday, March 25 2019 Garmin has made a few announcements, most notably the introduction of two new IFR navigators and the certification of the G3X Touch EFIS system on hundreds of single-engine piston aircraft models. This article is not a complete rehash of the information already mentioned but our take on the new navigators and a few comparisons from what we normally install in the panels we build for The Airplane Factory's Sling aircraft as well as many home builders.
The new IFR navigators are sure to be popular for Garmin, as they have dramatically reduced the cost of equipping aircraft with the latest ADS-B and WAAS technologies.
The New GPS 175
Garmin's new GPS 175 brings WAAS GPS to Class 1 and 2 aircraft that weight less than 6000 pounds (think single-engine piston aircraft) for a list price of $4995. The GPS 175 compares closely with the GTN 625, and for less than half the price. While the GPS 175 loses SafeTaxi charts, it gains built in Bluetooth for wireless flight plan transfer from your tablet using apps like Garmin pilot or ForeFlight. Another loss for the 175 is the slimmer profile that greatly reduces useful display area. While this may be a problem for those installing this unit in certified aircraft that might not already have an EFIS system, for experimental homebuilders who will be installing a full EFIS system like the G3X Touch it's not such a bad thing considering that most flight functions except for loading and activating approaches are done on the G3X anyways. The slimmer profile of the GPS 175 pays huge dividends in weight however, as it weighs a mere 1.3 pounds, whereas the GTN 625 is over 4 times that, weighing in at a hefty 5.4 pounds.
The New GNX 375
Along with the GPS 175, Garmin introduced the world to the GNX 375, which is practically the same, however it incorporates an approved ADS-B In and Out Mode S ES Transponder. For the homebuilder, this new device is a revolution. By turning two devices that need to be mounted into one, the space and weight savings will be much appreciated, not to mention the fact that the wiring portion of the installation has just gotten much simpler. In the past, one would need to wire an ADS-B Out/In transponder to both a GTN and EFIS display whereas now the connections can be made straight to the displays. Furthermore, the cost savings compared to a similar GTN625 + GTX 45R system makes the GNX 375 the obvious choice. See the table below for a complete feature comparison between the GNX 375 and a similar GTN 625 +GTX 45R setup.
LPV Only Isn't A Bad Thing
One concern that many are sure to have is the lack of VOR/ILS capabilities in the new units. While this concern is shared among many homebuilders, there are a few things to consider. First, after 2025, the FAA will have shut down 308 VORs across the country. Second, the cost involved in installing and maintaining an ILS approach system is very expensive as opposed to creating a GPS approach and with the price of the WAAS GPS navigators coming down, how long will it be before ILS is phased out, especially at airports that most of us GA pilots fly to? Almost every airport with an ILS approach has an RNAV LPV approach with the same minimums (except for Category 3 ILS, which we as experimental aircraft cannot do anyways and are typically at larger airports that most of us will never fly to), in addition to the many airports across the US that don't have any type of radio-navigation instrument approach, but were equipped with RNAV approaches given how comparatively cheap they are to create and maintain. All of this said, one of the new GNX/GPS navigators coupled with a COM radio is all you need to effectively fly across the entire US and get just about anywhere you want to go.
Perfect For Experimental Amateur Built Applications.
There are many home builders who want to equip their aircraft for IFR flight, these new navigators will help bring down the costs of doing that. The GPS 175 will be perfect for those that want to retrofit their EAB for instrument flight but already have a transponder. The GNX 375 is definitely the choice for those who are still in the build process and have not yet installed their avionics into the aircraft. Since space is often a consideration when it comes to home built panels, either unit will help free up a bit of that space. The navigator is over a half inch shorter and with the GNX 375 there no need to mount an add on transponder box saving you an even larger amount of space. After designing many panels for home builders, I can say that even a half of an inch savings the navigator brings on a panel design can be a big help!
Feature Packed
As you can see, the Garmins new navigators are feature packed units offering all of the conviences of the GTN series navigators. The GNX 375's built in transponder, ADS-B solution, and lower price point, makes it (in our opinion) a clear winner against the GTN 625. If you are in the process of building your airplane definately consider this solution.
If you need help with the design and construction of your avionics panel and harness we can help. Give us a call (810) 356-3855.
For more information on the GPS 175 and GNX 375 visit the Garmin Product Page.